Disc Golf
The Canmore Nordic Centre's 18-hole disc golf course is known for its beautiful setting and challenging nature. There are a few holes that are sure to challenge even the most experienced disc golfer. The course is free to use and open all year round (holes #5 to #14 are closed in winter) so just turn up and play!
Please note that there are certain times that the disc golf course is closed to the public for a special event, like the annual Big Bear Classic in early June. Please contact the Canmore Nordic Centre for information (403) 678-2400.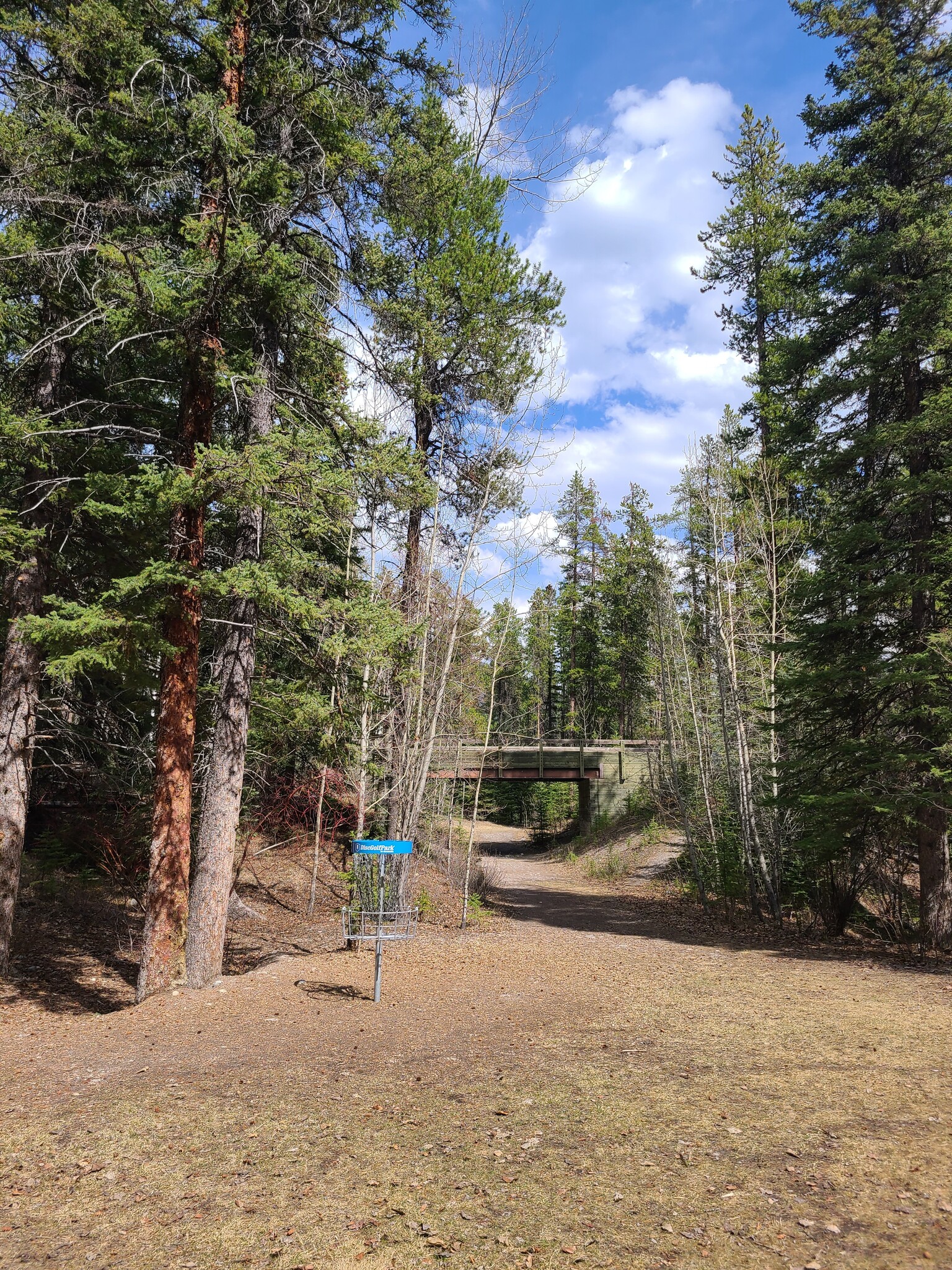 At Trail Sports we offer a great selection of discs to purchase as well as discs to rent. 
Disc Golf Rental
Our discs cost $5 a day to rent. Click the button below to start your reservation!
*A valid driver's license is required for all rentals*
Cancellations must be made 24hrs ahead of your scheduled rental time in order to receive a refund.
NO REFUND for cancelations within 24 hours of reservation start time.
Top Tips for Playing at CNC
Be able to see where you plan for the disc to land. If there is a blind corner, scout it out.
Let faster groups play through (same goes for smaller groups – if you are a group of four or more, and a one- or two-person team is on your tail, let them play through.
Wear firm shoes (the Nordic Centre course is rugged).
Allow two to 2.5 hours to play the 18-hole course (a shorter option includes playing holes 1-4 and 15-18).
Carry water. Wear bear spray!
Three Sisters course is a nice option for new players (rent from Trail Sports, drive to Three Sisters).
Disc Golf Lessons
Private and Semi-Private Lessons
Enjoy from one-on-one instruction or a personalized small group of up to five people. Lesson will be adapted to the skill level of the person or group; from beginner fundamentals to advanced disc golfing. Semi-private lessons are ideal for families or a group of friends!
1 hour (in stadium and introduction to 9-hole course)
$70 + GST Private (one person)
$110 + GST Semi-Private (2-6 people)
Register Here: Private Lesson (one person)
Register Here: Semi-Private Lesson (2-6 people)
Corporate Groups
Includes a 20-30 minute introduction to disc golf with help getting started on the course. We suggest starting off with 9 holes!
$150 per instructor (1:10 ratio)
$5 per disc rental
Please contact: Program Coordinator
Take Your Game to the Next Level: Three-Week Clinic with Matt Riordan
Introducing our three-week disc golf clinic with instruction provided by PDGA professional Matt Riordan.
Minimum 3 registered participants to run the series.
Who Is Matt Riordan? Matt is a Professional Disc Golf Association (PDGA) member and a Disc Golf Course Designer. He is passionate about sharing his love of disc golf with all ages and abilities. 
Three, one-hour sessions.
Saturdays, June 10, 17, 24. 10am-11am.
Great deal!! $75/person + GST
Register Here: Three-Week Disc Golf Clinic
NEW!

Trail Sports Disc Golf PDGA League

 
Hand-in-cap (handicap) league
Tuesday Evenings at the Canmore Nordic Centre
May 30 to August 1
Flex start time (anytime between noon and 7pm)

We are excited to announce our very own Disc Golf league will be taking place this summer!
The league will run for ten weeks. The first two weeks help players establish a scoring average or handicap; the following eight weeks, players compete against their own scoring average, which helps each person be competitive every week.
There will be three divisions:
Pro (competes for cash prizes):

MPO (mixed professional open)
FPO (female professional open)

MA1 (mixed amateur; plays for prizes, i.e., discs)
FA1 (female amateur; plays for prizes, i.e., discs)
$80* per entry. Click here to register!
Here is the link for the PDGA league page, which can also be found on the UDisc app: https://www.pdga.com/tour/event/71004
*Fee Breakdown:
$1 weekly to PDGA
$1 weekly for league administration
$1 weekly for division trophy at end of year
$5 weekly to prizes or $ purse for the week
NEW!

Trail Sports Bag Tag Challenge

Thursday Evenings at the Canmore Nordic Centre

Starting early June (stay tuned) and continues for the year.

 

Add an element of fun to your disc golf game for league, tournament and casual play.

 

Here's how it works: Tags are available for purchase in person at Trail Sports ($10) any day of the week, 9am-6pm. Tag holders can then challenge other tag holders to a game anytime in 2023; whomever shoots the lowest score, keeps the lowest numbered tag. 

 

Starting July 13, Thursday evenings will be a semi-organized group gathering, followed by Pub Night at the Bill Warren Training Centre! Trail Sports is the meeting spot for the first Thursday, but after that, these are group-driven sessions. Show up with your tag at the meeting spot by 5:30pm (last tag goes in the pot at 5:30pm sharp!). Please make an effort to show up on Thursdays so a game can ensue.

 

Participants can play as one large group or split up into smaller groups, then compare scores (and redistribute tags) with everyone at the end of the game. Redistribution of tags is based on scores (lowest numbered tag goes to the lowest score). Pub Night is a great setting for this portion of the evening.

 

It's quite simple. Show up with your tag, play, redistribute tags based on game scores (all the while, enjoying group play with fellow disc golfers).