Ski Equipment Fitting Appointment
Looking for expert advice from industry professionals? Book an in-store ski equipment fitting with one of our expert ski technicians. We provide personalized ski, boot and pole fittings for classic and skate skiing.
Cross-Country Ski Fitting Guide
Choosing cross-country skis can sometimes be a head-scratcher. How long should a ski be? How stiff? What are the differences between classic and skate skis? This ski fitting guide will provide you with all the information you need in order to make an informed purchase and have a great winter on your new pair of skis!
Why is the stiffness of a ski so important?
When choosing the ideal cross-country ski, a skier's weight is the most important metric to consider when determining how well a ski will fit. The aim is to choose a ski with a stiffness that affords the skier a strong and clean kick whilst also promoting a smooth glide. 
There are several ways of conveying a ski's stiffness. The most common way is via a weight range, which you can see in the left image. Another metric you may come across is FA value. You can read more about this metric at the bottom of this page.

The simplest way of choosing the correct stiffness would be to pick a ski that has your weight in the middle of its recommended weight range. In our example, that would be 48kg. However, the skier's ability, preference and the conditions that you ski on should also be taken into consideration.
Skier ability/preference
A beginner or recreational skier looking for a safe kick with more control should aim for a softer ski - go for a weight range where your weight is on the higher end.
A skier looking for a fast glide and a sportive kick should aim for a ski where their weight is on the lower end of the weight range. Remember, a stiffer ski will demand much better technique!
Snow Conditions
Snow conditions should also be factored into the choice of ski. If you ski here at the Canmore Nordic Centre, where we have hard, compact snow, a stiffer ski will perform better. If your local skiing area mainly has softer snow, or frequent fresh snow, a softer ski is recommended.
What is my ideal ski length?
The ideal length of a ski is based on a number of factors, including the skiing discipline, the skier's height and ability and even the snow conditions.
People can comfortably use a wide rage of ski lengths. Skiers aiming to optimize for speed should choose longer skis. Whereas skiers who are looking for more control should chooser shorter skiers. For classic cross-country skis, a good rule of thumb is your height + 15-25cm. For skate skiing you should look for skis that are 5-15cm longer than your height.
FA Value Explained
FA value is an industry-specific metric used by Fischer. Expressed in kilograms, the FA Value represents the amount of force it takes to close the camber pocket of the ski. 
Below is a handy chart to help you work out your ideal FA value based on your weight in kilograms. All of the advice on this page can be applied to the FA. To find your FA range, first calculate your weight in kilograms, choose the appropriate table based on the type of ski you are looking to purchase, then you have your FA range!
Example: 70kg skier looking for a waxable classic ski.
Based on the table, their FA range is 36-43. Based on other factors (explained in detail above), the skier can now find their ideal FA.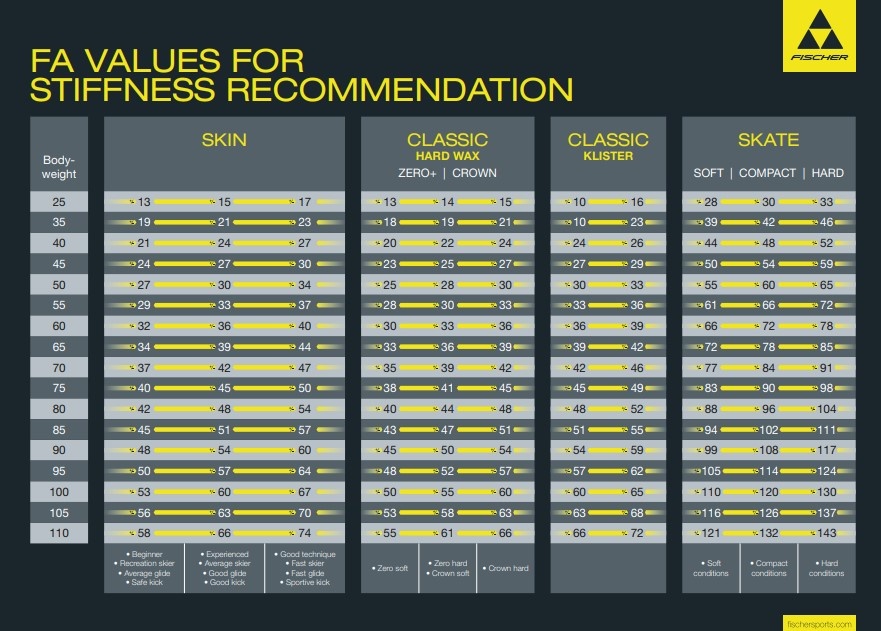 (mobile users: tap on the image to expand)
Still looking for expert help?
Feel free to email or phone us with your questions! Or, book a ski equipment fitting appointment with one of our expert technicians
Click Here to Book an Appointment